Emergency Storm Damage Tree Removal Services: From tree trimming and removal to removing or grinding down stumps, we have you covered!
Call Today: (317) 519-2192
Cross Cut Tree Services & Landscaping Is the Regional Team You Can Trust
We offer a full line of 24 hr. emergency Tree Removal Services in Indianapolis and we are pleased to provide support to clients through the region. For home and company owners: Tree removal Fishers, Tree removal Avon, Tree removal Noblesville, Tree removal Brownsburg, Tree removal Zionsville, Tree removal Carmel, Tree removal Irvington, Tree removal Beech Grove, Tree removal Greenwood, Tree removal Plainfield, and the surrounding areas.
Stop Insect and Disease Attacks!
Most storm damage to properties occur during severe weather due to falling limbs and trees. Strong winds and saturated soil conditions typical of summer storms can cause roots from trees to fail and branches to weaken. Limbs can be torn free during storms or an entire tree may fall, causing power outages, property damage, and even personal injury. During winter months, the weight of ice and snow accumulations causes failure of branches and even entire trees.
Debris on the ground from storm damage can be a considerable hazard which you should not always handle on your own. Fallen tree limbs can be very heavy and sharp, and the handling and disposing of them without the proper tools can further complicate things. Severe damage such as splitting or pulling apart of branch forks, removal of large bark pieces, twisting and splitting of the tree trunk, or even uprooting may occur during heavy storms. These injuries can usually result in a change of appearance of the tree and increase its susceptibility to subsequent insect or disease attacks. It's important that the damage be properly treated, and repairs made to maintain health of the tree.
When storm damage cleanup ir needed, our crews can quickly and safely remove hazardous trees and branches. From removing an entire uprooted tree, to collecting and hauling away tree debris scattered by wind or ice, Cross Cut Tree Services & Landscaping is your first choice for storm damage services.
24/7 Emergency Storm Damage Tree Removal Indianapolis
Cross Cut Tree Services & Landscaping are experts in tree removal. We have access to ISA Certified Arborists for trees which vary from harmless to exceptionally hazardous. Approximatly 80% of the work we do would be hazardous removals of some kind, whether it be because of disease, storm injury, foundation harm or the need for sunlight enhancement.  Insurance, efficacy, ability, and safety is very important with regards to tree removal. Cross Cut Tree Services & Landscaping is effective at removing your trees whether they're dangling on your house, nuzzled in your rhododendrons or deep in the garden overtop your pool. We also provide full and complete cleanup!
We take care of listening to your needs and supply professional advice and customized services regarding the best plan of action for the care of your trees. Rest assured that your work will be overseen and executed by a Certified Arborist. Cross Cut Tree Services & Landscaping employs real tree maintenance professionals which are licensed through the International Society of Arboriculture (ISA).
Cross Cut Tree Services & Landscaping
1) Debris Hauling
2) Firewood
3) Tree Planting
4) Crane Services
5) Bucket Services
6) Stump Removal
7) Storm Damage
8) Woodchips
9) Tree Trimming
10) Tree Pruning
11) Majority and Brush Clearing
12) "x-ray" Tree Evaluation
13) Injections
14) 24/7 Emergency Service
Why Choose an ISA Certified Arborist?
An Arborist specializes in the maintenance your plant life. We understand how to correctly manage trees, shrubs along with other plants to ensure they're healthy. An Arborist accredited by the International Society of Arboriculture (ISA) is professionally trained to care and evaluate every tree.
Emergency Tree Trimming Indianapolis
Tree pruning, or trimming is crucial to both the health of your trees as well as the general appearance of your lot. In case your tree is taking up too much room or you're dealing with low-hanging branches, then telephone the best tree cutter in Indianapolis, Noblesville, Fishers, Carmel, Zionsville Geist, Greenwood and surrounding areas, Call Cross Cut Tree Services & Landscaping today!
Complete Emergency Tree Removal Indianapolis
We are trained and licensed to do the job rapidly and safely. We don't only remove trees. You might have us remove your stumps as well, without or with a tree removal. We also provide additional services, such as brush cleanup, mulch sales, ice and snow removal from your grounds or rooftops from Central Indiana.
Stump Removal
Stumps could be unsightly and dangerous obstacles on your property. In case you've stumps left over from prior tree removal, then make your appointment with us today. Your satisfaction is 100% guaranteed.
Lot and Land Clearing
Clearing your lot can be a tough task. Don't let the prospect overwhelm you — make your appointment for land clearing & excavation services in Indianapolis, Noblesville, Fishers, Carmel, Zionsville Geist, Greenwood and surrounding areas, with Cross Cut Tree Services & Landscaping today. A lot clears with no size restriction. We proudly offer all skid steer and excavation operation services large and little, with seasoned operators.
Cross Cut Tree Services & Landscaping
1. We've experienced arborists on staff to help assess your property for all your tree security and wellness concerns.
2. We are geared to deal with any size job from the smallest of pruning, to clearing the way for a brand-new development of homes. No job is too big or small.
3. A combination of our extremely trained personal, state of the art top notch gear, superb customer service, and best prices in the market ensured have made "Cross Cut Tree Services & Landscaping" one of the greatest tree businesses in the area.
Cross Cut Tree Services & Landscaping can assist you ensure your trees are cared for your property is protected. We are equipped and ready to deal with the complete range of tree maintenance, from big jobs requiring crane services to fine pruning of your trees and shrubs. In case you've limited access space, our trucks, chippers and stump grinding gear can maneuver in tight spaces. We've got a certified and experienced group of tree specialists to work with you to meet your landscaping needs.
1) Emergency Tree Removal Marion County
2) Emergency Tree Removal Hancock County
3) Emergency Tree Removal Shelby County
4) Emergency Tree Removal Johnson County
5) Emergency Tree Removal Morgan County
6) Emergency Tree Removal Hendricks County
7) Emergency Tree Removal Boone County
8) Emergency Tree Removal Hamilton County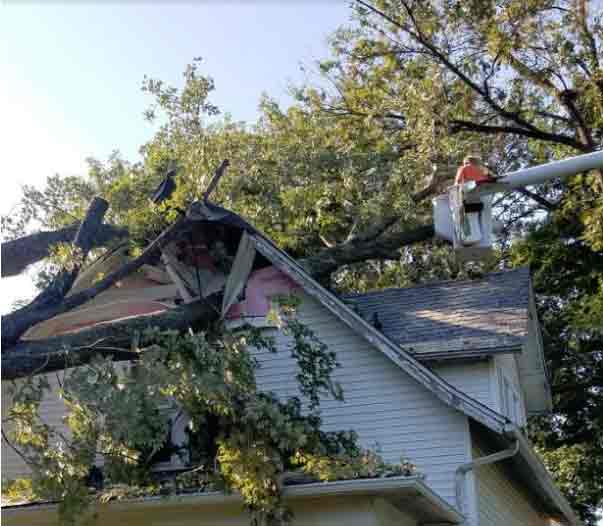 ALL-HOUR EMERGENCY TREE SERVICES!
We Know Trees
Quality Indianapolis Tree Trimming, Tree Removal, Stump Removal & Grinding for over 25 years.